Fourth vaccine dose unlikely to be approved for under-30s due to myocarditis risk
Australia's vaccine advisory body is unlikely to approve a second Covid vaccine booster for under-30s due to the increased risk of myocarditis and diminishing benefit of successive doses.
Currently, Australians considered most at risk of severe illness and those aged 30 and over are eligible to receive a fourth dose three months after their third dose.
With the country staring down a new Omicron wave in the lead-up to Christmas, some young people who are approaching a year since their booster shot are clamouring for another jab.
But Professor Allen Cheng, former co-chair and current member of the Australian Technical Advisory Group on Immunisation (ATAGI), told The Sydney Morning Herald on Saturday that it was likely the current vaccine schedule would remain as is, given the heightened risk of heart inflammation in young people.
"A 30-year-old who gets Covid is probably not going to get into any trouble with it as opposed to a 60 or 70-year-old," Prof Cheng said. "If it has been a long time since [an older person] got their last dose then we start to worry.
"A 30-year-old with … three doses will be optimally protected."
He added, "Vaccinations are beneficial and protective even for younger people but the more doses you get, the less benefit you derive from them and then we start to worry about causing side effects."
In a statement, an ATAGI spokesman said while it was "not possible to pre-empt changes" to the Covid vaccine program, "ATAGI continues to meet regularly and, should new evidence become available, ATAGI will consider and update recommendations as required".
"The current Covid-19 vaccine booster recommendations remain unchanged for those under 30 years of age," he said
"ATAGI notes the evidence to support an additional booster recommendation for the under-30s is less certain than for older individuals or those at high risk of severe disease from Covid-19 infection."
He noted the primary goal of the vaccination program is to "minimise the risk of severe disease, including hospitalisation and death".
"A second Covid-19 booster dose aims to provide additional protection to those with the highest risk factors for severe disease," he said.
"The Australian government supports the ATAGI advice to stay up-to-date with vaccinations as providing optimal protection against severe disease and hospitalisation from Covid-19. This includes those under 30 years of age."
Meanwhile on Tuesday, Health Minister Mark Butler announced ATAGI had decided against approving a fifth dose.
Mr Butler said ATAGI had considered international evidence, as well as local data, and "decided not to recommend" the third booster at this point in time.
He said ATAGI was likely to implement new booster recommendations in early 2023 in preparation for winter. "ATAGI reiterated that they are continuing to actively review the role of booster doses," Mr Butler said.
"They noted in that, in their view, any reduction in transmission in this current what appears to be a building wave, any reduction in transmission by adding a fifth dose to the system would, in their words, likely be minimal."
Prime Minister Anthony Albanese receives his fourth dose. Picture: Dean Lewins/Getty Images
'Immunity boosted'
Given the rise in cases, state and federal health officials have urged Australians to get another dose if they are eligible.
Commonwealth chief medical officer Paul Kelly last week urged people to "make sure you are up-to-date with your vaccinations – including having a third or fourth dose if you haven't had them already".
"Make an appointment for this dose as soon as possible so your immunity is boosted for the coming months when we are most likely to see an increase in Covid-19 transmission in Australia," Professor Kelly said.
"Vaccination is your best protection against getting severely ill or dying from Covid-19."
Victorian chief health officer Brett Sutton also urged people to "be up-to-date with any vaccine that you're still eligible for".
"A third dose, a fourth dose, whatever dose it might be," he said.
Prof Kelly said the latest wave was being driven by Omicron variants XBB and BQ.1, which he dubbed "the grandchildren Omicron".
According to the Health Department, 96 per cent of Australians aged over 16 have had two doses and 72 per cent have had three doses.
Among the eligible population of over-30s, only 42 per cent – or just under 12 million people – have had a fourth dose, while three-quarters of eligible over-65s, or nearly four million, have done so.
Speaking to Nine's Today show last week, Prof Kelly conceded that Australians had "high hybrid immunity from vaccination and previous infection".
"So that will protect us against that more severe end of the spectrum of disease, and that will continue even with these new variants, in my view," he said.
"But we will see more transmission, we will see infections. And so now is the time to really consider if you are up-to-date with that vaccine.
"If you haven't had your third one yet and we're all eligible for a third one, if you haven't had that fourth one for those over 30 that are eligible for a fourth dose, now is the time to go and get that. That will protect you more.
"And we do have slightly modified vaccines now with the with the B.1 strain as well as the original strain of the virus."
People lining up at the Wayville Showgrounds Vaccination Hub. Picture: Greg Barilla
'Uncertain' benefit
Myocarditis and pericarditis are rare side effects associated with the Pfizer and Moderna mRNA vaccines, but studies have suggested the risk is greater after Covid infection.
Australia's Health Department says Covid is estimated to cause myocarditis at a rate of approximately 3.2 excess cases per 100,000 – roughly the same risk as after vaccination.
But the risk after vaccination is far higher among boys aged 12-17 years at 13 cases per 100,000 for Pfizer and 24 per 100,000 for Moderna, according to the Therapeutic Goods Administration (TGA).
For men under 30, the rate is nine per 100,000 for Pfizer and 23 per 100,000 for Moderna.
"In males aged 16-40 years, it is uncertain whether the risk following Covid-19 remains higher than the risk following vaccination," the Health Department says in its current guidance.
ATAGI said last month that even despite this uncertainty, the threat of the virus continues to outweigh any risk that comes with mRNA vaccines in the younger population.
"Booster doses of Covid-19 vaccine are important to maintain protection and are recommended for males aged 16-40," a spokesperson said in a statement.
As of October 30, 2022, the TGA says it has received 704 reports of likely myocarditis from about 44.2 million doses Pfizer, and 115 from about 5.4 million doses of Moderna.
Out of 14 deaths confirmed to be linked to Covid vaccines in Australia, only one has been associated with myocarditis.
The TGA's external Vaccine Safety Investigation Group (VSIG) concluded in September that the death of a young woman in her 20s, a few weeks after receiving a booster dose of Moderna, was likely due to the vaccine.
"After close consideration, the panel agreed that this woman's myocarditis was likely to have been related to vaccination but acknowledged there were several other complicating factors that may have contributed to her death," the TGA said at the time.
"Based on current evidence, the panel reaffirmed that overall, the benefits of vaccination at a population level continue to far outweigh the risks for the mRNA vaccines."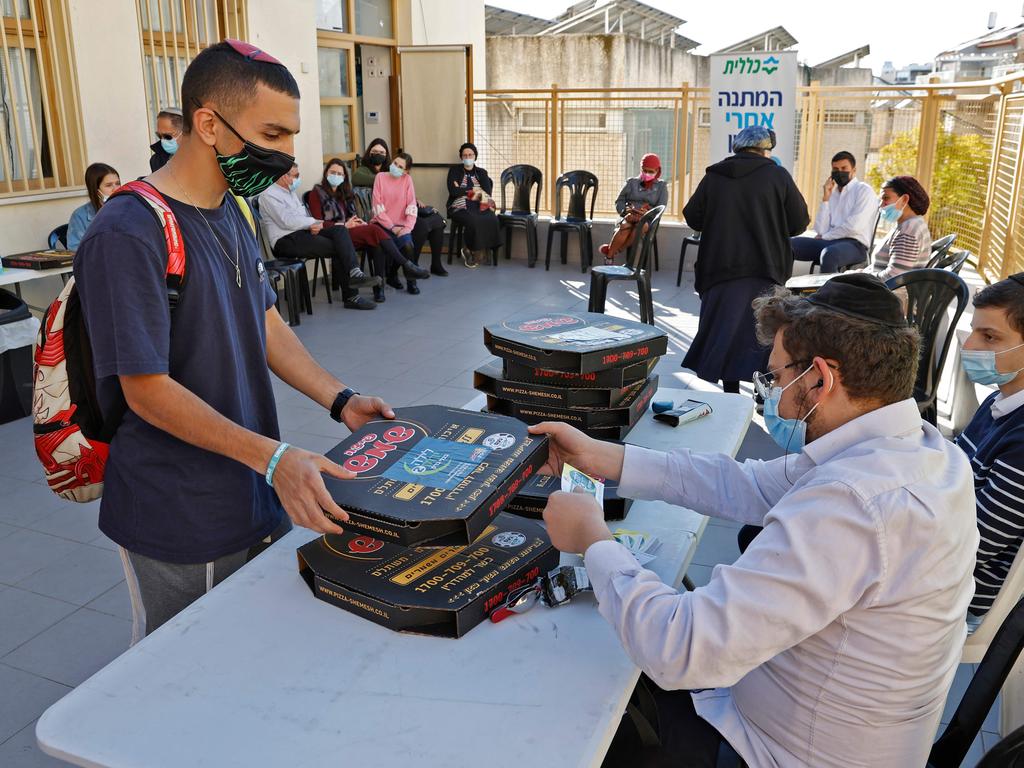 People receive pizza after getting the Pfizer vaccine in the Israeli city of Bnei Brak. Picture: Jack Guez/AFP
'No infection link'
Australia's Health Department cites two studies – a cohort study from four Nordic countries, and another from the UK – for its claim that Covid infection causes myocarditis.
Contradicting those findings, Israeli scientists investigating the link between heart inflammation and Covid said they found "no increase" in myocarditis and pericarditis up to six months after infection.
The large population study of nearly 790,000 Israelis, published in the Journal of Clinical Medicine earlier this year, sought to determine the incidence of post-Covid cardiac conditions in unvaccinated patients.
The researchers, from Hebrew University in Jerusalem and Tel Aviv University, analysed medical records from Clalit Health Services – Israel's largest mandatory health insurer covering more than 50 per cent of the population, or around 4.4 million people – from March 2020 to January 2021.
The dates were chosen to fall largely prior to the large-scale vaccination rollout, which began in late December 2020.
A group of nearly 214,000 adults who had a documented positive PCR test in that time frame were compared with a control group of around 936,000 patients with at least one negative PCR test on record, and no prior positive infection.
Diagnostic codes for myocarditis and pericarditis were extracted between 10 days after infection up to six months post recovery.
Each patient in the Covid group was "matched" with three control group patients of the same age and sex.
During the study period, there were nine cases of myocarditis and 11 cases of pericarditis detected in the Covid cohort, while 27 cases of myocarditis and 52 cases of pericarditis were seen in the control cohort.
"No statistical difference in the incidence rate of both myocarditis (p=1) and pericarditis (p=0.17) was observed between the Covid-19 cohort and the control cohort," the authors wrote.
"In the current large population study of subjects, who were not vaccinated against SARS-CoV-2, we observed no increase in the incidence of myocarditis or pericarditis from day 10 after positive SARS-CoV-2."
They added, "Multivariable analysis did show male sex as associated with a higher risk of developing myocarditis or pericarditis, regardless of previous Covid-19 infection."
The authors said the study had its limitations, such as the small number of cases relative to the sample size.
"Second, we included only cases of hospitalised myocarditis or pericarditis patients, whereas outpatient medical records were excluded from the study," they wrote.
"This could possibly omit a small number of patients with mild disease."
They noted further long-term studies would be needed.
Asked to comment on the study, ATAGI's spokesman said the advisory body "takes into account a wide variety of information and research from national and international sources when providing reviews and updates to its advice" and noted the current guidance "cites the review of 41 pieces of internationally sourced research".
"In addition, ATAGI consults with expert medical practitioners such as those from the Cardiac Society of Australia and New Zealand (CSANZ) and the National Immunization Technical Advisory Groups (NITAGS) from other countries such as the USA, Israel, Canada and the UK to inform their recommendations on Covid-19 and Covid vaccinations including their experiences with myocarditis and pericarditis," he said